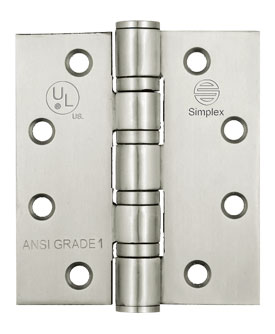 For heavy weight doors or doors requiring high frequency service
SPX4BB5199 Steel with steel pin
ANSI A8111
SPX4BB5199 Brass with stainless steel pin
ANSI A2111
SPX4BB5199 Stainless Steel with stainless steel pin
ANSI A5111
- Hinges manufactured in accordance with ANSI/BHMA A156.1
- For heavy doors & high frequency doors
- All hinges with five knuckle four ball bearing with non-rising pins with button tip and plug.
- All hinges have template screw hole location for use on either wood or hollow metal doors and frames.
- Pins in non-ferrous hinges are stainless steel.
- Hole in bottom tip for easy pin removal.
- Dimension & tolerances conform to ANSI - A156.7.
- Full Mortise, Square Corner, Heavy Weight template hinge.
- Screw packages - All Machine Screws (AMS) - Phillips (#3) flat-head and half wood screws - (1/2WS) - Phillips (#3) flat-head.
- Approved for use on all types of fire doors up to 3 hours to maintain the integrity of fire rated openings and walls. Refer to NFPA80.
Option: Non Removable Pin (NRP)


Coming soon.
view category